Animation has got so much easier in the early decades that there's no longer a need for hand-drawn animation. Now with plenty of animation software, you can bring your ideas to life within a few. If you're a beginner or don't want to spend much time in learn hard animation-making skills and looking for some best animation software then you have come to the right site, here in this article we have covered the three best of all animation software for beginners that is very easy to learn. All this software comes with pre-made animation and characters, making it easier for beginners to work and pour imaginative energy to the screen. We have selected these tools for those who want to create animated videos with few clicks.
Let's begin.
Easiest 2D Animation tool Vyond
Vyond is a cloud-based 2D animation tool that allows you to create animation with characters in a variety of ways. It provides an online animation creation tool suitable for users of all skill levels. It enables you to create animated explainer videos, Business-Friendly animation, Ideas explanations with whiteboard animation, and other types of videos. Vyond gives you all editing layouts in which users can import sounds and Pre-made scenes. Vyond Explainer videos are very famous among freelancers and YouTubers. Because it's a web-based animation software that does not require any additional software to be downloaded. The package includes pre-made characters, props, and animation, and also allows to upload of your images which makes it simple for beginners to work on. The reason it's best for beginners is, users just have to do is pick an animation from the big list that will apply automatically. based on characters, animated props, engaging graphs, charts, and much more. In my opinion, if you are planning to sell the animation on any freelancing platform or as a service Vyond is best for you.
Plotagon Easiest Cartoon Maker Mobile Application + Desktop Software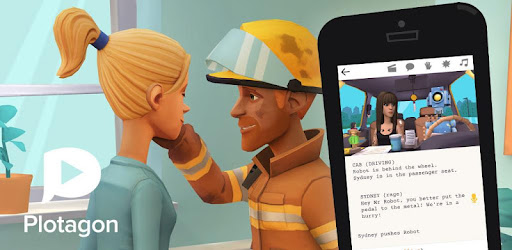 Plotagon was founded in 2013 to transform ideas into videos using technology and animation. It is 3D animation-making software mostly used in the creation of animated stories. The software comes with pre-made animation. All you need to do is choose the best one for you, later plat-agone will create the animation, or if it's a dialogue add the lipsync. Page includes character creation, Text speech, Pre-made environments, and Characters. The reason it's best for beginners is that that allows you to create a 3D animated story with few clicks with few limitations even in a paid version but with the release of the Android App, you can carry around an animation studio in your pocket. It is used by influencers, YouTubers, storytellers, teachers, and collaborative trainers all over the world to educate students, employees, and the general public. As being Animator we named Plotagon as a tool that will make you the animator within one day.
MOVIESTORM FILMMAKER
Moviestorm Filmmaker is one of the few underrated desktop-based 3D animation software.it's best for beginners because you do not have to pay to use it for a limited amount of time. To make good videos, Moviestorm maker comes with a choice of viewpoints that allow adding of premade models, Character Creation, Animation, Cool Walk Cycle, and Dialogue with Lips sync and post-processing graphics are reminiscent of video games. like the other two, Moviestorm also comes with pre-made animation. All you have to do is select the character or probes you want, Give the command from the mouse and the animation will be created according to your requirement. In particular with this software, It's quite simple to turn your idea into animation. If you're a film or media student, this moviemaker ought to be your great choice software.